ChiroThin™ Patient Testimonials:
Roland's Story...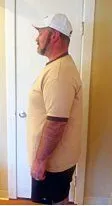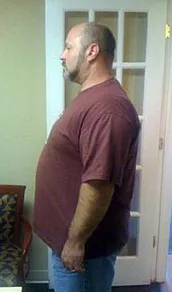 "Wow, what can I say other than the ChiroThin Weight Loss Program is awesome!!!!!! I've lost 53 pounds in one 42 day cycle and have not felt this good in over 15 years. The ChiroThin Weight Loss Program is super easy to follow. When I first heard that you had to limit yourself to 500 calories per day while on the ChiroThin program, my first thought was I'll be starving. That is not the case.
The program worked exactly like the doctor said. I know it may be hard to believe, but I have not been hungry at all and my energy level is through the roof! If you've suffered with being overweight, let me give you some advice: "Start the ChiroThin Weight Loss Program immediately"! You'll be glad you did. Thanks ChiroThin, Roland N."
---


Adeana's Story... "Wow, what can I say about the ChiroThin Weight Loss Program that could express how wonderful this product is and how grateful I am in the research and dedication in developing it. After the birth of my second child, the weight seemed to just cling on for dear life….there was nothing I could do that made a difference. I tried everything...there was not a diet around that could budge the excess weight that seemed to have a will of its own. Many of you are probable thinking, well less calories in and more calories out usually works…maybe you should try it. Well, I did…for almost a year I worked out three times a week in an extensive martial arts program and walked everyday for 30mins, combined with the famous "life style change" of making better food choices. I was expecting great results because I was doing what should have worked…I lost a grand total of 10 pounds after all that work…I was devastated and felt hopeless until I tried the ChiroThin Weight Loss Program. It was the first time in 9 years that could see and feel the weight come off without exercise…it was AMAZING. I would recommend the ChiroTHin program to anyone who has struggled with weight loss . Thanks ChiroThin!."
---
Barb's Story... "I can't thank you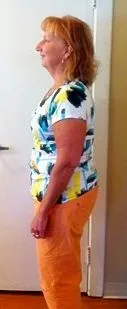 e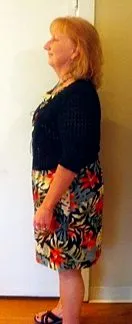 nough for your ChiroThin weight loss program. It's incredible! For years I've struggled to lose weight and had pretty much given up. After losing 29 overall inches and 20 pounds in 42 days, I am a firm believer in the ChiroThin program. Seeing that daily weight loss is quite the motivator… but your suggestions and encouragement each week were also a blessing. The ChiroThin program was so easy to follow. I didn't feel like I was starving myself like with most diets; and I really didn't have any of the usual cravings. It fact, there were a few occasions when I prepared special treats or meals for others and was pleasantly surprised that it didn't bother me. And you were right, the longer I was on the program the easier it became. I'd definitely recommend ChiroThin to others. It works! Thanks again doc!."
---
Chiropractor Testimonials...
Posted By: Dr. Kyle Bowers, DC... "I had decided that it was time for me to lose some weight. After speaking with several companies about it, I finally found ChiroThin and decided to try it myself. I lost 30 lbs. in 40 days and was amazed by my results. Then I decided to start offering it to my patients. I have sold close to 100 kits my first two months and it's not even diet season for most people. The customer service is great and the results that my business is seeing are AMAZING. --Thank you ChiroThin."
---
Posted By: Dr. Amy Hoppe, DC... "Before I decided to sell the ChiroThin Weight Loss Program I had a lot of reservations. Frank was always available directly and if he honestly didn't know the answers, he would immediately ask Dr. Jason and respond quickly with a solution. Frank and Dr. Jason are very easy and pleasant to work with. Personally, I started off doing the weight loss program myself so I would know exactly what it was like and how it worked. I loved the results, it was easy, and I feel awesome. Doing the weight loss program helped answer more questions and eliminate hesitations. The ChiroThin Weight Loss Program is great for my practice – it's helping my current patients become healthier, brings in NEW patients, and makes it easier for my practice to achieve our overall wellness goals."
---
Posted By: Dr. Ken Freedman, DC... "I love the Doctor Supervised ChiroThin Weight Loss Program for 7 big reasons: It worked for me—while doing the program myself, before I offered it to my patients, I dropped 27 pounds in about 5 weeks (I'm now down 40 pounds) and developed healthier real world eating habits.
2) It's a highly desirable, excellent, easy to implement and affordable service that easily dovetails into any style and philosophy of practice.
3) People love it. Where else can they get a quick weight loss victory with a longstanding, proven, all natural and affordable system of reducing physical and chemical stress on the body? Patients will take off excess weight from their joints, reduce tissue inflammation from unhealthy food groups, and foster greater, physical, mental and social well-being. Some of my patients on the program have lowered their blood pressure without drugs, healed from irritable bowel syndrome, and have come off insulin.
4) It's a great way to introduce people to my practice and the benefits of chiropractic care. Many overweight people have other health challenges that could benefit from a chiropractic checkup. I'm attracting new patients who already trust me, without leaving the office!
5) Unlike back supports, pillows, and nutritional back end products, the inventory doesn't require a lot of space--making it very efficient to store.
6) I'm providing an
ethical, excellent service that people love, and I'm being compensated fairly--without submitting to insurance carriers.
7) It comes with a support team that's first rate and makes implementation a breeze."
Posted By: Dr. Eric Becking, DC... "We absolutely love ChiroThin. It has revolutionized our practice. Thank you for all the blood sweat and tears you have put into it. Kind Regards, Dr Eric Becking."
---
Posted By: Dr Sheldon Brown, DC... "My Name is Dr. Sheldon Brown, DC, and I've been practicing in the Pewaukee/Brookfield, Wisconsin area for over 5 years helping people with natural alternatives. I hope by reading my story below will encourage people to follow through and achieve their goals!
Since the age of 12 years old, I have suffered with my weight and appearance. I couldn't understand how a young, active child could be so overweight. After 20 years of being overweight and self-conscious, I figured it out! I realized that you are what one eats, and no amount of activity or exercise can pay up for a bad diet. Our S.A.D. (St
andard American Diet) is truly "SAD" and is America's #1 disease killing us today.
Being a healthcare provider, I knew I had to find a solution for myself and my patients here in Wisconsin. I found the answer to my problem from a colleague in Nebraska who introduced me to the ChiroThin Program.
I was very hesitant at first, because I had tried everything and nothing ever gave me the results in a timely manner to motivate me to stay with the plan. Once I started the ChiroThin program, I lost over 20 lbs in my first three weeks and was amazed by how easy the program was to follow with such great results! I ended up completing 12 weeks on the program over a 4-month period and lost 93 lbs total.
The plan offers a healthy natural diet under doctor supervision, and you buy your own food at the grocery store. No prepackaged food is required, which makes the plan successful long term because you are eating food that you should be eating every day. The program's success happens by being under doctor supervision, eating a low inflammatory diet and taking a sublingual spray that helps the body to burn its own fat for energy. The best part is that it works for everybody!
Since the completion of my personal weight loss journey, I have helped over 3,000 patients of mine lose weight and regain confidence while giving them their health and life back.
My most common complaints from patients that we helped change were: "I can't fit in my clothes anymore", "I can't play with my children or grandchildren like I want to", "It's uncomfortable travelling", "I wish I could wear the clothes I want without feeling judged", "I'd love to take that tropical vacation but I can't wear a swim suit", "I hate having my picture taken", and "I want to feel better because my knees and back hurt". If you have any of these common complaints or any others, then I'm here to help you.
... For someone who has suffered with being overweight/obese for most of my adolescent and adult life, I have a special place in my practice... to help those people who are overweight, obese or just plain uncomfortable with their appearance or how they feel. This year, your New Year's Resolution can become a reality with someone who has been in your position, and has been successful for over four years maintaining weight loss results. I hope that by sharing my story, I have given hope to those that have lost all hope. Let's make that dream a reality. I look forward to meeting you and helping to change your life. Thank you, Dr. Sheldon Brown, DC."
---
Another Patient Testimonial Letter...
"I have been struggling with my diabetes for the past 8 years and over that time I have only gained more weight then I have wanted and I been ordered and prescribed more drugs then I have ever wanted to take but I had no idea that there was a way to get my condition under control.
Until I visited my chiropractor Dr. Garden back in September 2010. I had not been in to see him because of a summer filled with travel. My neck and shoulder where really bothering me again so I made an appointment to see Dr. Garden.
I remember him seeing me and Dr. Garden telling me I didn't look good and what was going on? Well, my M.D. had just prescribed me 4 new drugs as I had been having a challenges getting my food cravings under control, my blood sugar was all over the place- too high, I was taking more insulin then I can ever remember taking, my blood pressure was thru the roof and my cholesterol was higher then it had ever been. I was embarrassed about how I looked I thought the buttons on my shirt were going to pop off and hurt someone but I also hated how horrible I felt. I remember Dr. Garden saying that I should attend his ChiroThin seminar and it was the final solution for my ongoing diabetes problem. I thought how could a chiropractor say such a thing…..
Well I attended the seminar, but didn't purchase because I thought it was too expensive… I came back into see Dr. Garden for my neck and shoulder problem and Dr. Garden finally said Harold – "what your doing isn't working, your weight and laundry list of health issues including current neck and shoulder problem… what is keeping you from doing our program" and I had no response other then my medical doctor said the program is a joke and I was scared because of how bad my diabetes was. Dr. Garden was persistent and replied what if I give you a discount will you try it… and so I did…
I loaded for 2 days and it was tough to eat like a hog and then I started the low calorie part of the program and I felt like crap… sick almost, Dr. Garden told me I might experience this, so I was a bit nervous but kept with the program… The first week I lost 8 lbs. and by the second week I was down 15 lbs but more importantly what Dr. Garden was telling, was becoming the truth.. I was taking half the amount of insulin, my blood pressure was decreasing, my glucose levels were within normal limits for the 1st time in over 8 years, my clothes fit better and I had more energy….
During my 4th week I had a check up with my M.D. and he was all excited and said "see the new medications are working" I remembered him saying…. I closed my eyes and blurted out I'm not taking your medications they make me feel like crap and I started ChiroThin and that why I'm having the success I'm having.
Well, he yelled at me and made me feel so horrible that day and yelled about how bad the program was and it was going to kill me, it really took to excitement out of the results I was finally experiencing.
I had an appointment with Dr. Garden the next day and told him what had happened. He was all excited with how I was looking. He told me that my M.D. should be ashamed of himself… because for the first time I was going towards health and away from diabetes or illness. He made me feel so good about what I was doing and the results I was achieving and that ChiroThin was safe and the right thing for me to be doing. Dr. Garden told me I should fired my M.D. and he wasn't looking out for my best interest or my health, I finally started to see that he was right.
So I have completed my first cycle and I'm into the maintaince phase. I have lost 44 lbs and I feel and look great. I'm using the least amount of insulin I have ever used. My glucose levels are lower then they have ever been and I'm wearing pants and shirts I haven't been able to wear in 20 + years. I just still can't believe what I have achieved and feel like my life has been saved! The best thing about all of this I'm heading to Hawaii for Christmas and I don't have to hide or be embarrassed about my body.
Thank you Dr Garden and ChiroThin for helping me with this problem that no medical doctor has been able to help me with. I look up to you as my primary doctor and realize that you have done more for me, my family and our health then I can ever thank you for. God Bless, Harold L."
Get Started Today! - If you would like to get started today, call us now at
(416) 633-3000 to book your appointment or if you have any questions
regarding the ChiroThin™ Lifestyle Program.