Quit Smoking at The Speed of Light!
According to the American Cancer Society,
smoking related diseases claim an estimated 480,000 lives each year. Cigarette smoking has been identified as the most important source of preventable morbidity and premature mortality worldwide.
Click here to view "Surprising Ways Smoking Affects Your Looks and Life".
For over 42 years, Dr. Pisarek and his professional staff at Advanced Healthcare are committed to helping people stop smoking and end their nicotine addiction. Dr. Pisarek utilizes a safe and painless technology to help you to quit smoking. By utilizing low-level laser therapy (LLLT) with our smoking cessation program, many patient clients treated may be smoke free in approximately 1 hour.
Laser therapy is also referred to as: low-level laser therapy (LLLT); laser acupuncture; photon stimulation; or, photo-biostimulation (PBS). LLLT is the application of a "cold" laser light beam to treat certain conditions. We point the laser at precise acupuncture locations on your face, neck, wrists, hands, abdomen and legs. Additional points may be included to suppress appetite and avoid food cravings. Within minutes you should feel completely relaxed.
Click here to view the "Quitting Smoking Timeline"... which emphasizes the positive effects of quitting smoking and how the body restores itself to health".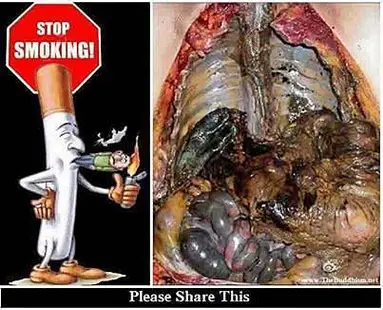 Smoking cessation laser treatments have been used in Europe and North America for over 35 years. LLLT is recommended by many physicians as laser therapy has no side effects, feels extremely relaxing because of the natural endorphin production, and there is no need to use gums, patches, shots or pills.
We are very compassionate and understanding and we will assist you in every facet of quitting smoking, which includes the laser treatment, proper diet and nutrition, counseling for your mental triggers, relaxation techniques and detoxification. We address the physical addiction as well as the mental addiction, and, will do our best to help you try and overcome your addiction to nicotine.
Is it Guaranteed?... "Guarantee" is a 'big' word. We do not claim any 'total' success or satisfaction guarantees... or offer money-back guarantees. Everyone's genetic makeup, stress levels, health history and lifestyle is different. Results vary as no 'two' human individuals are alike... even twins.
Generally, only one visit may be all that is required to start alleviating the smoking addiction. In principle, clinically it works and it is still important that you want to quit smoking. After approximately 30 days, the body is usually completely free of nicotine, so it is a conscious decision to start smoking again.
The self-motivated patient who will take the time to practice most of the items outlined by Dr. Pisarek during the smoking cessation session will most likely be pleased with the results.
Our smoking cessation laser clinic is dedicated to helping you lead a healthier, happier, and smoke free 'longer' life.
Ready to Quit? Please call Dr. Pisarek at Advanced Healthcare (416-633-3000)
with any questions about treatment for quitting smoking or to
set up an appointment to 'KICK' the habit.