Low Level Laser Therapy (LLLT) is the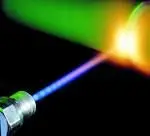 application of a safe, painless, non-invasive "cold" laser light energy beam to treat certain conditions. It has been used to successfully treat many kinds of musculoskeletal injuries because it promotes healing and tissue repair. This therapy has been used in Europe and North America for over 35 years.
When you smoke a cigarette, natural chemicals in your body, called endorphins, send signals to your brain to make you think you feel better. Nicotine addiction alters the normal endorphin cycle in your body so you have a hard time feeling good without the use of nicotine. As you know, the effects of nicotine wear off quickly (usually 1 to 2 hours). As time goes by, endorphin levels in your body drop far below normal, and you begin to feel extremely irritable, stressed-out, fatigued, and anxious for another cigarette. After you inhale again, endorphin levels are raised back up to a point where you feel better. And so the cycle continues on and on. This is nicotine addiction.

Just as cigarettes raise endorphin levels in your body to make you feel relaxed, so does Low-Level Laser Therapy (LLLT). By elevating levels of endorphins, laser therapy allows you to eliminate nicotine from your body while avoiding the cravings, stress, and irritability most commonly associated with withdrawal. The difference between cigarettes and laser treatment is the fact that laser naturally stimulates your cells to release endorphins over a much longer period of time - 3 to 5 days versus 1 to 2 hours for a cigarette. It has been proven that it takes approximately three to five days to allow nicotine to leave your body completely.

After about 5 days, you have successfully eliminated nicotine from your body. From that point, your mental battle with your addiction will become the challenge. This is where the mental triggers that we discuss with you will be pertinent to your success. Dr. Pisarek will be there to answer any calls that you may have regarding your nicotine triggers, proper eating or detoxification and help you through the process.

During a low-level laser session, the cold laser is pointed at specific locations on your ears, face, hands, abdomen and legs. You may feel a slight tingling sensation, but most clients feel a calm sensation or absolutely nothing at all.
It typically only takes "1" treatment session to end
your smoking addiction in over 70% of patients treated.