Footmaxx is a young, dynamic Canadian company offering the only truly computerized system for fabricating prescription foot orthotics. In less than two years, they have become the largest supplier of orthotics in Canada and they are proud to say that 29 of 30 Major League Baseball teams, 13 National Football League teams wear their products not to me
ntion, various world-wide sports personalities.
Click here for testimonial endorsement letters from satisfied athletes using Footmaxx orthotics.
Orthotics are customized insoles worn in any type of shoe and they correct the way a patient walks. If a patient is walking incorrectly, their entire body can be out of alignment causing all types of problems including foot, ankle, leg, hip, and lower back pain. A 5-minute gait and pressure analysis test will tell you if you are a candidate for orthotics. Orthotics are covered by most insurance plans because insurance companies know the value of orthotic therapy in the prevention and treatment of many conditions that can lend to short-term or even long-term disability claims.
The Footmaxx system measures the weight distribution along the plantar (bottom) surface through the gait cycle, providing a dynamic measurement that takes into account the influence of the leg. The system also measures the function of the subtalar and the midtarsal ankle/foot joints.
A brief overview - Eight steps to correction: How your custom orthotics are made:
Step One: The patient walks across the Footmaxx force plate which contains 960 capacitance points. Your walk is scanned by a computer 30 times per second, allowing for 3/100 second interval analysis of each footstep.
---
Step Two: Dr. Pisarek will review your
preliminary test results with you, taking the time to explain the gait line and the 2D and 3D images. For more severe conditions, Dr. Pisarek will provide additional patient information concerning diagnosis or specifies additional posting instructions by using various exam screens in the Footmaxx software. Casted 3D foam foot impressions may also be taken and shipped to the Footmaxx laboratory.*
---
Step Three: The clinician then sends the patient file to Footmaxx via modem requesting a Gait & Pressure Analysis Report and/or prescription orthotics.
Dr. Pisarek will upload the patient file to Footmaxx via modem the details of your scan and his modification recommendations. Also if required, Dr. Pisarek will personally discuss your particular prescription and requirements with one of FootMaxx's podiatry technicians.
---
Step Four: At the Footmaxx lab, the patient's file is fully analyzed by the Footmaxx proprietary diagnostic software, Metascan™, which uses advanced algorithms to analyse your gait details and compare them to normal gait patterns. From this information, a Gait & Pressure Analysis Report is generated and, if necessary, a prescription for orthotics is specified.
---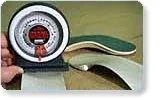 Step Five: The manufacturing process begins with a specification sheet generated by Metascan™ which is coupled with any additional instructions indicated by Dr. Pisarek. A semi-rigid orthotic module is intrinsically posted which means that the angle and height of the arch of the orthotic module is formed and molded based on the prescription needed to correct the patient's abnormal bio-mechanics. Intrinsic posting is the secret that makes Footmaxx orthotics thin and easy to wear in any type of shoe.

---
Step Six: When extrinsic posting is specified by a clinician (or Metascan™), Footmaxx offers the same types of materials and modifications available from any podiatry lab. Extrinsic posting includes any additional materials that must be added to the orthotic module to help correct abnormal bio-mechanics.
---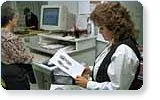 Step Seven: Within just days of receiving an orthotic order via modem, the customization process is complete and the orthotics are sent to the Quality Control Department where they are carefully checked against the Metascan™ prescription and Dr. Pisarek's test results and instructions.
---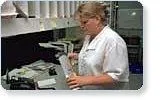 Step Eight: Once the orthotics are approved by quality control, they are shipped to the clinician via 2-day courier. Digital patient data is permanently stored at Footmaxx making patient progress easier to track
When your orthotics are approved by quality control, they are shipped to Dr. Pisarek's office via a 2-day courier. Your digital patient data is permanently stored at Footmaxx, which will make your progress easy to track over the following years; a feature that only Footmaxx can offer.
---

Once received, Dr. Pisarek will personally dispense the orthotics to you with instructions on their use.

Dr. Pisarek offers custom orthotics for a fantastic array of sport, casual and dress shoes for both children and adults.
*As with all healthcare treatments and product prescriptions, results vary from patient to patient.