Medical Gradient Compression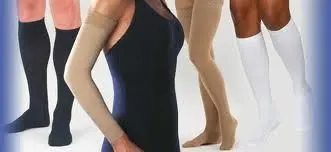 Hosiery: Do I Need Them?

I have great legs but my ankles swell by the end of the day!
I have big tortuous varicose veins all over my legs!
I'm an expectant mom... my legs, ankles and feet hurt and swell!
My legs and ankles swell when I fly (in an airplane)
I am over 40 and my legs/ankles seem to be swelling!
I have a history of deep vein thrombosis
I have diabetes. Can compression stockings save my legs?
I sit all day at work, and by the end of the day my legs are swollen!
I have been told that I need compression stockings!
If you fall into one of the above categories, you may be a candidate for Gradient Compression Hosiery, or Compression Stockings.
Click here for 'A Visual Guide to Deep Vein Thrombosis (DVT)'
How do you know?...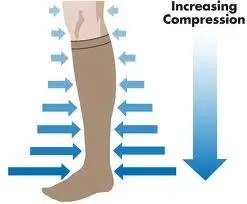 if your legs, ankles and feet swell
your calves ache, and your feet and legs are tired, aching and fatigued
you have varicose veins or spider veins
you sit or stand for long periods of time
over 40 years old
have a history of DVT's or blood clots in your legs
are diabetic
are an expectant mother
you want to prevent vein problems
have a family history of vein disorders
have been diagnosed with chronic venous insufficiency or lymphoedemasituations requiring enhanced blood flow or compression in the legs (muscle injury, sprains, strains)
are receiving cancer treatments
are travellers
Additionally, many individuals without preceding conditions simply appreciate wearing gradient compression hosiery and love the way it makes their legs feel!
... You might be a candidate.
How can gradient compression stockings help?
Deliver a controlled amount of pressure to the legs
Support the venous and lymphatic system and prevent poor circulation
Promote better venous blood flow which in turn helps prevent and control vein-related diseases
Most extended health insurance plans cover gradient compression stockings on the prescription of a chiropractor or your doctor, often covering the cost of multiple pairs per year. The price of compression hosiery varies depending on the amount of compression and the type of sock/stocking. Please check your insurance policy details and contact us if you have any questions.
Advanced Healthcare is a distributor of Jobst - Medical Gradient Compression Hosiery. We will measure your legs and provide you with excellent selection and value.
Please email (click here) or call Advanced Healthcare today at (416) 633-3000 to make an appointment with Dr. Pisarek for your evaluation.
Please note: It is always recommended to consult your health care professional, like Dr. Pisarek, to determine the appropriate medical gradient hosiery and compression for your needs.