Pack it Light, Wear it Right: Backpack Tips from Ontario's Chiropractors - Homework might be a pain in the neck, but it shouldn't hurt kids' backs!

More than 50 per cent of young Canadians experience at least one episode of lower back pain by the time they reach their teenage years, and research shows that this is likely due to improper use of backpacks. That's why this fall, the Ontario Chiropractic Association wants parents and kids to follow practical tips from the 'Pack it Light, Wear it Right' public education program when choosing, packing and carrying backpacks this school year.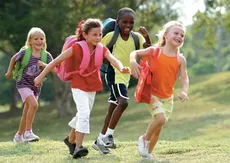 "Poorly designed or overloaded backpacks can really cause pain, and can contribute to chronic back, neck and shoulder problems," says Ontario Chiropractic Association President Dr. David Brunarski. "Because of this, wearing and packing a backpack properly is especially important for children, whose spines are still growing," he adds, noting that according to a 2010 study published in the journal Spine, increased loads of 4, 8 and 12 kg resulted in compressed discs in the lower back and increased curvature of the spine.

The Ontario Chiropractic Association's 'Pack It Light, Wear It Right' public education program offers helpful advice for parents and kids alike.

For example, when shopping for a new backpack, consider:

Choosing a backpack that is

proportionate to body size and not larger than what is needed. The top of the backpack should not extend higher than the top of the shoulder, and the bottom should not fall below the top of the hipbone.
Selecting a backpack made of lightweight material (vinyl or canvas instead of leather).
Looking for shoulder straps that are at least two inches wide, adjustable, and padded. Ensure that they do not cut into or fit too snugly around the arms and arm pits.
A hip strap or waist belt to help effectively redistribute as much as 50 to 70 per cent of the weight off the shoulders and spine onto the pelvis, equalizing the strain on the bones, joints, and muscles.
When packing a backpack, remember:
Backpacks should never exceed 15 per cent of a child's body weight (i.e. a 90-pound child should not carry more than 14 pounds in a backpack). For elementary school children try to keep the weight in their packs below 10 per cent of their body weight.
Ensure the weight is evenly distributed in the backpack.
Pack the heaviest items closest to the body; this reduces the strain as the weight is closer to the body's own centre of gravity.
Pack the odd-shaped items on the outside, so they don't dig into the back.
Don't overload the backpack; only carry the items that are needed.
When lifting a backpack:
If no one is available to give a helping hand, squat or kneel to pick up the backpack and place it on a counter, chair or table at waist height, before slipping it on.
Avoid twisting when lifting.
Lift with the legs, bending at the knees and put on one shoulder strap at a time.
Adjust straps to fit the body.
It is important to note that these tips aren't exclusive to children. Adults who lug oversized purses, laptop bags and luggage are prone to back injury and would do well to review tips provided through the Pack it Light, Wear it Right - on the go program. For information about all 'Pack Light, Wear Right' programs, visit www.chiropractic.on.ca.
Click here for article "Practical Tips to Lighten School Backpacks"
Click here for article "7 Back-To-School Backpack Safety Tips For Your Child"