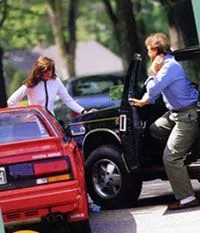 People have been turning to chiropractic health care for over
a century. They have sought treatment for a wide variety of ailments, from migraines to heel pain. The following is a brief summary of circumstances where chiropractic is an appropriate health-care choice.
You have been in an auto accident:
Trauma can cause spinal misalignments in the body, which can in turn distort your structure and irritate your nerves, bones, ligaments and discs. Any auto accident, no matter how minor, can
create nerve-damaging misalignments. We can give you a spinal check-up to ensure that your spine is free from these health-compromising changes and to prevent any long-term damage.
---
You have a slip/trip and fall, sport, personal or work related injury:
When a subluxation (a misaligned vertebra pinching a nerve) has been caused by repetitive stress or overuse at work or play, slip/trip and fall accidents, spinal nerves may be impeded. This may in turn negatively affect one's range of motion, strength, reflexes, endurance, and, ultimately, performance. Chiropractic can help your body restore normal nerve function and help you get back to your peak in both play and work.
---
Interruption of proper nerve flow, for whatever reason, can eventually lead to pain, disability, and an overall decrease in the quality of life. You don't need to live with it - we can help you get to the root of the problem, set your body up to heal, and restore your health
All of our services are covered by most extended health insurance and motor vehicle accident plans!
---
Call Advanced Healthcare at (416) 633-3000 to speak with Dr. Pisarek or click here to send him an email to find out if chiropractic can help you 'naturally' without pain, drugs or surgery!