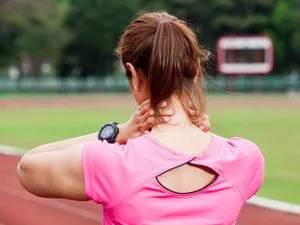 When you hear the word, "whiplash," most people immediately picture a rear-end motor vehicle accident. But there are other ways that whiplash injuries can occur, including:

Assault... such as being punched, wrestled with, or shaken
Amusement park ride... such as being on a 'bumper-car' or a 'roller-coaster'
Sports... especially contact sports such as football, hockey, soccer or boxing
Slip and fall accidents
An item falling down onto your head
Symptoms and related pain can show up immediately or up to 72 hours after the impact that caused the 'whiplash-type' injury. And the pain and discomfort can last for months, if not years.
Following a whiplash injury, the goal of chiropractic care is to return affected neck joints to their normal position to relieve stress on nerves and strain on affected muscles. For best results, and to avoid the formation of scar tissue and unnecessary pain, you should make an appointment to come in for an examination and commence treatment as soon as possible after a whiplash injury.
Source: Dr. Matt Morris, DC of University Park, Florida
Please call Dr. Pisarek @ (416) 633-3000 for an appointment and get your health back!
We will gladly set an appointment time for you to be seen at your earliest convenience.
You can also email us at [email protected].